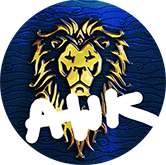 09 AUG
[*]Updated Addons.zip folder at downloads
[*]Improved combat system for all classes (especially hunter!)
08 AUG
[*]Added advanced CONFIG button
[*]Automatic melee range picker
11 APR
[*]Bugfixes
14 MAR
[*]AWK PVP: Efficiency optimization
13 MAR
[*]AWK AV -> Is now referred as AWK PVP:
[*]All melee classes (Warrior especially) combat has tweaked to be more advanced
[*]Option to choose between doing middle objectives (first) or going for the last objective has been added to settings.
[*]WSG: Improved Artificial Intelligence (state machine) to do objectives and fighting
[*]AWK PVP & AWK PVE:
[*]Relogger implemented in -beta version
11 MAR


AWK AV:

Combat system is tweaked differently for every class

Objective logic is improving a lot, by tracking amount of friendly players around


AWK PVE:

Profile chaining & Creation

2 MAR:
28 FEB: AWK AV:


Fixed DMWC-Classic so movement works again (Download latest AddOns.zip

27 FEB: AWK AV:


WSG mode has now more objectives

25 FEB: AWK AV:


More advanced unstuck system

WSG mode is now fully functional

23 FEB: AWK AV:
21 FEB: AWK AV: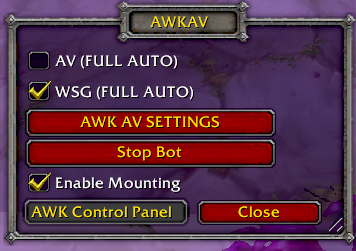 New mode: WSG

Huge improvements to the combat system

Fixed small bugs

Improved anti-stuck method

Added more humanlike behaviour

20 FEB:
18 FEB: AWK AV better combat system, mounting and moving
Progress Updates:  
| | |
| --- | --- |
| Content | 1-100% Progress |
| AWK Revamp: Vendoring, Repairing, AutoTalenting, MuleMailing, AutoSkilling, AutoEquipmentUpgradeing | 65% |
| New website | 99% |
| Bots Tracker App | 50% |
| Bag cleaner | 0% |
Red = High Prority
COMING SOMEDAY:
(this might increase efficiency when waypoints are really well made! even get a level in 2 hrs at 35-45!)
WAYPOINTS


recording waypoints

vendoring, unstucking

AUTO TRAINING:


At critical point of level for certain class,
the bot goes to trainer and
trains most important skills
for its rotation and survival.

AUTO MAILING:


BOE's and other good stuff to the mule

and mule your gold with the help of guild bank or mailbox when over > gold amount

AUTO GUILD BANKING:


Set up character names that are used to make a guild

DUNGEONBUDDY MODE
-> Detects your in a group and in what instance you want to go (even raids)
-> Sets up the characters and bots, and their movements to be perfect for raids and their actions too (when to pop GFPP potion for example at Ragnaros)
-> Your all characters must have seperate AWK license, so raiding might be too costly
->  Dungeoning with 3 or 5 man AWK bots, gets you offer to the price (not decided yet)
-> Bot: heal, tank, dps, and flee in hard situations
-> Restarts instance if instancelooping mode is on